St Louis Commercial Snow Removal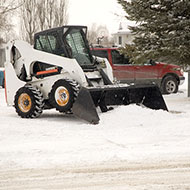 Commercial Snow Plowing St Louis. The Ground Effects team of lawn care professionals works hard throughout the entire year. Once the warm months end and winter storms begin to hit the St Louis area, our outdoor service specialists jump into action with our commercial snow removal services. Our snow removal company is locally owned and operated to provide prompt, reliable snow removal services to commercial properties and businesses. Ground Effects has the technical capabilities and knowledge to remove snow and ice from any commercial property in the St Louis area. Be prepared before a storm hits: sign up today and add your business to our snow removal schedule. When you choose Ground Effects as your snow removal company, you can be sure that your customers and employees will be safe when using your parking lot or roads.
Dedicated Snow Removal Specialists
When winter weather is predicted for the St Louis area, the snow removal specialists from Ground Effects take their equipment home. This way, they can be dispatched directly from their homes, cutting out the time it takes to stop at the shop and pick up equipment. Through this we can respond to your snow removal needs in a timely manner. We have professional drivers located all around St Louis to minimize the wait time for your commercial snow removal job.
Professional Snow Removal Services
Ground Effects is committed to providing the highest quality professional snow removal services. Just as we do for our lawn care services in the spring, summer, and fall, we strive to go above and beyond for our winter weather customers. We use some trucks for snow removal, but mostly we utilize light/heavy machinery to push snow. In our opinion trucks can't quite do the work that loaders and skidsteers can to move and place snow out of the way. It is not unlikely for us to hire two private meteorologists for the most accurate prediction of winter weather severity. Ground Effects offers the professional snow removal your business needs.
---