St Louis Shrub/Bush Trimming Services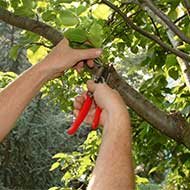 Bush and Shrub Trimming St Louis. Create a clean overall appearance in your landscaping with shrub and bush trimming services for St Louis and the surrounding areas from Ground Effects. Having your bushes and shrubs trimmed not only keeps them from looking overgrown, it also promotes healthy growth and discourages disease. Pruning shrubs can increase the lifetime of plants and encourages them to grow with more vigor. Choose Ground Effects for all of your St Louis shrub and bush trimming services. Our team of lawn care experts will turn your overgrown shrubs and bushes into the beautiful landscaping they were meant to be through our professional shrub pruning service.
Professional Shrub Pruning Service
Professional shrub pruning services from the lawn care professionals at Ground Effects includes chainsaw work and hand pruning to remove dead and broken branches. Removing these eyesores through professional shrub pruning promotes the flowering of certain shrubs and bushes. This makes it important that your shrub pruning be well timed, as certain shrubs need specific trims to help them grow. Let Ground Effects' professional shrub pruning service restore the livelihood of your bushes and shrubs.
---