St Louis Lawn Grading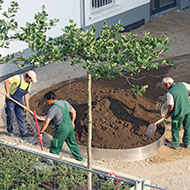 St Louis Lawn Grading Services. When you are looking to install landscaping to your St Louis area home, the first step is to grade the landscaping area to level the ground. Ground Effects provides lawn grading services so your lawn will be ready to accommodate landscaping. We understand that every landscaping project is different, as is every lawn or plot of land, so all of our lawn grading services are customized to meet your needs. Our professional team can grade your lawn and remove stumps, rocks, and other large objects that obstruct your landscaping project. Choose Ground Effects as your professional lawn grading company for all of your lawn grading needs.
Professional Lawn Grading Company
If you're local to the St Louis area, Ground Effects is the professional lawn grading company you should choose for your landscaping, grading, and lawn leveling services. We have the knowledge to properly level your landscaping site. By using Ground Effects as your lawn grading company you can rest assured that your lawn excavation will be done right. With professional lawn excavating and leveling from Ground Effects, the risk of damaging a landscaping site is eliminated. Our professional team can work with your lawn or landscaping site to repair drainage issues and protect against erosion. We have the lawn grading equipment and tools to level the slopes in your lawn. Let Ground Effects be your professional lawn grading company for all of your landscaping needs.
---