St Louis Landscaping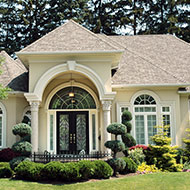 St Louis Landscaping Company. Ground Effects is your number one choice for St Louis landscaping companies. We have the talent and experience to create landscape designs that are visually appealing and have minimal impact on the natural layout of the land. If you are thinking of adding landscaping to your residential property, it's important to choose a St Louis landscape company that knows the many different soil and natural grass types of the St Louis area. Create a beautiful landscape for your home with the help of our expert landscape designers. Ground Effects' landscaping services are customized for your lawn.
St Louis Landscaping Services
Ground Effects offers landscaping services to the Greater St Louis area. We have the knowledge to create stunning landscape designs for your home, as well as offering landscape maintenance services so your landscaping continues to look visually appealing. The first step in our St Louis landscaping service is lawn grading to level the land on which the landscaping will be added. Our landscaping services also include planting and fertilization of flower beds and shrubbery, mulching, and various hardscape services such as retaining walls. Make Ground Effects your choice for St Louis landscaping services and get the beautiful landscape design your home deserves.
---

Lawn Grading Services:
Prepare your property for landscaping with our lawn grading services. Grading a lawn prior to landscape installation ensures that it is level and removes stumps and boulders.
Lawn Grading Services »

Planting Services:
Adding flower beds, decorative trees, and shrubbery to your lawn will help to create an inviting atmosphere for visitors and increases the curb appeal of your property.
Planting Services »

Mulching Services:
We provide professional mulch installation for your landscaping project. Adding mulch to your flower beds adds visual appeal and acts as a protective cover for roots.
Mulch Installation Services »

Hardscapes:
Our team of landscape designers can help you create the perfect hardscape design. We can install retaining walls, walkways, driveways, patios, firepits, and pergolas.
Hardscape Design Services »