St Louis Sod Installation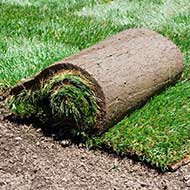 St Louis Sod Company. Ground Effects is the best choice when you're looking for a sod company in St Louis. Gain a healthy, established lawn almost instantly with sod installation from Ground Effects. We use proper soil preparation techniques before placement so that the new turf will be able to grow deep roots. Have your lawn sodded by experts from the best St Louis sod company and gain all of the benefits of sod, such as helping with erosion and weed control by being fully matured at the time of installation. Once your beautiful new lawn is installed by Ground Effects, your St Louis sod company, make sure it stays healthy and lush with proper sod maintenance.
Sod Maintenance
After having sod installed for your lawn, it is important to keep it looking great with proper sod maintenance. Newly sodded lawns need near-constant moisture to avoid dryness or brown patches. The corners are an especially important area to keep track of during your sod maintenance, as they tend to dry up the quickest. New sod should be watered thoroughly to encourage the already established roots to grow deep into your soil. Before mowing for the first time, be sure that the roots have grown enough and taken hold, ensuring that the sod won't be pulled up by the mower. When it comes time in your sod maintenance plan to fertilize- approximately six weeks after sod installation- use a slow release application to ensure even, thorough application. Following these sod maintenance steps will help keep your newly installed sod lawn from Ground Effects looking its best for many years to come.
---