St Louis Winter Care Services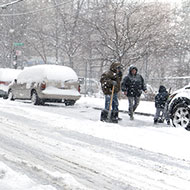 Winter Weather Services St Louis. When the spring, summer, and autumn months are over, and lawns are in a dormant stage, Ground Effects continues to serve the St Louis metro area with winter weather services. We have over 25 years of experience in the St Louis winter service industry, and we know that weather can be unpredictable in our area. When a winter storm hits the area, you can be sure that Ground Effects' team of snow removal specialists are ready to clear your business's parking lot of snow and ice. We are always prepared to serve you with our winter weather services, including commercial snow removal, salting services, and the shoveling of walkway areas.
Professional Snow Removal Services
If your business is located in the St Louis area you will eventually need professional snow removal services. Ground Effects is the snow removal company you should choose for your commercial snow removal. We have the experience needed to clear driveways and parking lots safely and efficiently so your business never has to close to accommodate the weather. Let Ground Effects handle all of your commercial snow plowing needs.
---

Commercial Snow Removal:
We provide commercial properties with snow removal services to keep parking lots free of ice and snow. Our team is always prepared for dangerous winter conditions.
Snow Removal Services »

Salting Services:
Keep employees and customers safe from slippery winter conditions with our salting services. We also provide pre-salting services when winter storms are predicted.
Road Salting Services »

Walkway Shoveling:
We offer St Louis area businesses walkway shoveling services. Our team of dedicated professionals meticulously shovel the snow from walkways and sidewalks.
Walkway Shoveling Services »