Leaf Removal St Louis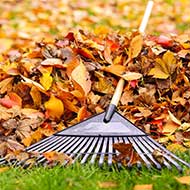 St Louis Leaf Removal. Ground Effects offers St Louis and the surrounding areas with the best option for professional leaf removal. When life gets hectic, time consuming yard work tasks like raking leaves become a low priority. Don't let leaves pile up due to time constraints, let us provide you with the St Louis leaf removal you need. Our lawn care team is trained for proper leaf removal from around buildings and landscaping. Trust our expert team to keep your flower beds, mulch, or rock gardens looking nice even after leaf removal. Ground Effects can provide your lawn with the best professional leaf removal in St Louis.
Leaf Removal Services
While a staple of autumn is the colorful leaves, once those leaves fall onto your lawn, they can start to cause damage. Ground Effects' leaf removal services can professionally remove damaging leaves. Not only are dead, brown leaves unsightly, they block your lawn from receiving the sunlight and water it needs to grow strong for the winter months. Additionally, by not using a leaf removal service those fallen leaves will trap moisture from your lawn. Without being able to evaporate and continue the water cycle, the moisture simply attaches to your grass, causing it to mold. Let us take care of leaf removal for you by either bagging the leaves with a mower and removing them completely, or turning the fallen leaves into mulch to help your lawn grow. Ground Effects can make your lawn green once again with our leaf removal services.
---