St Louis Insect Treatment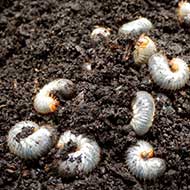 St Louis Insect Treatment Services. Insects and insect larva living in the soil of your lawn can cause major damage. Ground Effects offers St Louis and the surrounding areas insect treatment for lawns to help halt the life cycle of those bugs and insects. We have the knowledge to eradicate a major insect problem from your lawn through our insect control services. Additionally, we will check your lawn once the insect treatment is complete to make sure the problem is gone, as well as applying a spot treatment at no extra charge. This ensures our latest lawn pest treatment application completely eradicated the insect problem. Let Ground Effects take care of your insect problem with our grub worm treatment for lawns.
Lawn Grub Worm Treatment
Our insect treatments remove insects from your lawn by stopping the life cycle. Insects like beetles and centipedes lay eggs in the soil of your lawn. Those eggs then hatch and the resulting larva, also known as grubs, feed on the roots of your grass. This causes damage to the most important part of your lawn- the roots. We stop this process with our grub worm treatment, which works to kill insects during the larvae stage. Insects that are targeted by our lawn grub worm control are usually found in the driest parts of your lawn with the most sunshine.
Lawn Pest Control
Along with our insect treatment for lawns, we provide lawn pest control to help remove any pest from your lawn. Anything that is unwanted or invasive is considered a pest, including raccoon, moles, and birds that feed on soil-dwelling insects. If not removed via a lawn pest control plan, these pests will go digging in lawns infested with insects, thus causing damage. Ground Effects can offer a personalized approach to removing lawn pests from your St Louis lawn.
---