St Louis Lawn Fertilization Services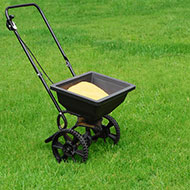 Lawn Fertilization St Louis. Ground Effects' St Louis lawn fertilization services take into account all the factors related to fertilizing lawns. Every lawn's fertilizer needs are different, so we help you create the personalized plan for your lawn. Our basic fertilization service includes granular and liquid fertilizer applications, as well as special applications when needed. We are careful to not over fertilize lawns, as too much fertilization can burn and damage the turf. Our St Louis lawn fertilization services will leave your lawn looking vibrant and healthy. Let Ground Effects' experienced team of lawn care experts help you grow a lush green lawn using the best lawn fertilization process for your St Louis area lawn.
Lawn Fertilization Process
A proper lawn fertilization requires extensive knowledge of fertilizers and their application. A properly fertilized lawn will grow healthy, green, and have deep roots, creating a strong lawn that is resistant to the stress of everyday traffic, insects, and the unpredictable weather of the St Louis area. Ground Effects uses an expert lawn fertilization process to create a healthy lawn through multiple fertilization applications per year. It is best to apply the first fertilizer in early spring, when the lawn is ready to grow after being dormant for the winter months. The next step in a proper lawn fertilization is summer fertilizer application. The heat of summertime encourages insects and weeds to make a home in your lawn, and thus damage it. To combat this, we apply fertilizer during the summer to encourage lawn growth. The final step in the lawn fertilization process is fall application, which prepares the lawn for winter by growing strong roots to endure the cold.
---