Lawn Edging Services St Louis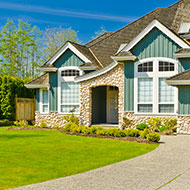 St Louis Lawn Edging Service. Ground Effects includes a lawn edging service as a regular part of our mowing service. We understand that using a lawn edger around sidewalks and driveways can be a tedious task, so we do it for your with our St Louis lawn edging services. Edging your lawn creates a professional, clean look that increases the curb appeal of your property. Lawn edging, in addition to creating the perfect manicured look for your lawn, helps to keep invasive grasses and weeds from entering the turf area. Let Ground Effects handle all of your lawn edging as part of our professional lawn mowing.
Professional Lawn Mowing
At Ground Effects we pride ourselves on great customer service, always looking to go the extra mile for our clients. That's why we offer edging with our professional lawn mowing service for St Louis and the surrounding areas. We want your lawn to be a great representation of you, and we know that a finished looking lawn with professional mowing reflects well on our St Louis lawn care company as well. We take the time to expertly edge along walkways, driveways, and landscaping to create a tidy, clean lawn. Ground Effects is the best lawn care company for professional mowing services.
---