St Louis Planting Services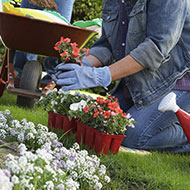 Professional Planting Services St Louis. Add color to your landscaping with planting services from Ground Effects. Flower beds and shrubbery add visual curb appeal to your home as well as helping to stop soil erosion. With Ground Effects' professional planting services, you will work with one of our expert landscape designers to create quality plantings. Our St Louis planting service includes the installation and fertilization of flower beds and shrubbery. We also provide weed control through our professional planting services with the application of pre-emergents to deter weeds from growing. In addition to planting services, we can remove any plants or trees that you don't want on your property. Ground Effects is the St Louis landscape planting company to choose for planting flowers and shrubs, installing flower beds, or removing stumps from your property.
St Louis Landscape Planting Company
At Ground Effects, we know there's more to planting flowers, bushes, and shrubs than digging a hole and hoping for the best. That's why we're the best St Louis landscape planting company. We can survey your landscaping site or lawn and work with you to figure out the best zones for planting flowers, shrubs, and bushes. Let Ground Effects be your professional planting company and help you create beautiful flower, shrub, and tree plantings.
---