St Louis Patio Paving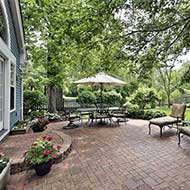 Paved Patios St Louis. When you are looking to install a patio into your St Louis home's outdoor area, the use of pavers can add a visually appealing outdoor space that fits in with your lawn. Ground Effects employs a profession team of landscape and landscape professionals to design and install paved patios. Pavers come in many colors, textures, and shapes that can be combined into endless design options. Common designs for patio paving include herringbone or basket weave patterns with a soldier course border, sailor course border, or a simple running bond border.
Custom Patio Design
Ground Effects has experience designing and installing patios that combine sophisticated visual appeal with the functionality of a paved surface. Our experience in the St Louis landscaping business gives us the knowledge to properly lay patio pavers. There's a lot more to pavers than putting down a base, sand, and laying the paver; we inspect the moisture content in the base, compact it with the proper force, and determine the proper slope and sequence to lock in the pavers. With Ground Effects custom patio design you get the most beautiful base for your outdoor entertaining space.
---