St Louis Commercial Lawn Services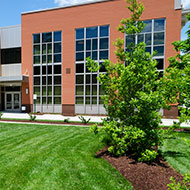 Commercial Lawn Services St Louis. Ground Effects offers St Louis and the surrounding areas commercial lawn care services. It is our goal to maintain your commercial property like you would want your home to be maintained- with professional care and precision. We understand that just because this property is commercial, and not a personal home, doesn't mean that it deserves any less than the best quality lawn care and maintenance. The owner of Ground Effects supervises all of the work done in our St Louis commercial lawn services, so if you have questions or need information you are able to communicate directly with him. We recognize that a business's lawn is the first impression a potential customer receives of a business. Having a beautifully manicured commercial lawn or professional-looking landscaping invites new business to your property. We want to encourage new clientele for you with our commercial lawn care services.
Commercial Lawn Care
Ground Effects' commercial lawn care for St Louis area businesses and other commercial properties includes a full range of lawn care and maintenance services depending on the size and needs of your individual property. We have served many different commercial properties, including apartments, office buildings, restaurants, banks, condominiums, common ground areas, and Home Owner Associations. We have also worked with municipal and industrial facilities. In addition to the maintenance of lawns and common areas, our team is fully equipped to provide commercial landscaping services. We take great pride in our commercial lawn care work and look forward to working with new customers. Our team is completely covered by Workmen's Compensation Insurance and liability coverage to insure most job requirements. Let Ground Effects be your choice for commercial lawn care and landscaping services.
---

Commercial Landscaping:
Create a professional and inviting atmosphere for visitors to your commercial property with our landscaping services. Our professional landscapers design in 3-D.
Landscaping Services »

Industrial Properties:
We provide industrial properties with lawn care services that promote a clean look. We work with industrial property managers to create a customized lawn care program.
Industrial Lawn Care »

Condominium Complexes:
Promote an inviting atmosphere for your apartment or condominium complex and welcome new tenants with our expert lawn care and maintenance services.
Condo Lawn Care Services »

Subdivisions:
Subdivision managers and residents can expect the best customer service in the lawn care business. We provide a full range of lawn care services for subdivisions.
Subdivision Lawn Care »

Commercial Common Ground:
For commercial properties in shopping centers or on community streets, we offer lawn care services for common ground areas, including trimming, edging, and weeding.
Common Ground Lawn Care »

Home Owner Associations:
We provide a full range of lawn care services for Home Owner Associations. Add aesthetic appeal and increase property values through healthy, vibrant lawns.
HOA Lawn Care Services »