St Louis Lawn Seeding Services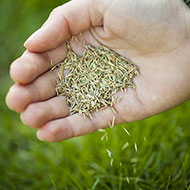 Lawn Seeding St Louis. At Ground Effects, we offer the Greater St Louis area lawn seeding services. A properly seeded lawn will grow in thick and even throughout the space of the lawn. Our lawn seeding service promotes healthy, even growth over the entirety of the lawn, without bare patches of exposed soil. Trust Ground Effects as your lawn seeding company in the St Louis area for a lush green lawn. In addition to our professional lawn seeding, we offer lawn aeration services to strengthen root systems or prepare soil for seeding.
Professional Lawn Seeding
Ground Effects' St Louis lawn seeding creates healthy lawns starting at the root. Without the proper tools and knowledge, lawn seeding can become uneven, leaving a lawn growing in patches. Patchy lawns look unhealthy, no matter how bright and thick the grass. By using a professional seeding service from Ground Effects, your lawn is guaranteed to be seeded evenly. Professional seeding makes lawns not only aesthetically pleasing with lush, vibrant green grass, but thick lawns have strong roots that act as deterrents to weed growth. Whether you need a full, even application of seed or an elimination of bare patches via a slit-seeder, professional lawn seeding from Ground Effects will be sure to give you the beautiful lawn you desire.
Lawn Aeration Services
Before seeding, we at Ground Effects like to prepare the soil with lawn aeration. However, there are also many other benefits of using a routine lawn aeration service. Many St Louis soils are thick and retain moisture, creating a stagnant environment that suppresses and suffocates the roots of lawns. Additionally, a lawn with a lot of traffic is packed down even more, continually compressing the soil and blocking air and nutrients from reaching roots. Lawn Aeration loosens the soil so air and water may filtrate into your lawn's roots. This air filtration cannot be achieved any other way than lawn aeration. When aerated, your lawn's root system immediately has room to grow. Roots that have been pruned by the aerating spoons put out new growths, and your grass begins receiving nutrition that was not available prior to aerating. Above ground the lawn will thicken, become healthier, more vigorous, and have fewer pest problems. We at Ground Effects recommend our St Louis lawn aeration services at least once a year.
---