Mowing/Trimming Services St Louis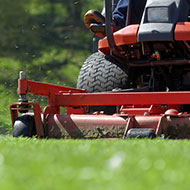 St Louis Mowing Services and Trimming Services. Perhaps the most important part of a lawn care and maintenance program is consistent lawn mowing. Ground Effects offers mowing and trimming services for a professional looking lawn. We pride ourselves on our commitment to customer service; we are always looking to go above and beyond to produce the best lawns. Choose Ground Effects for your St Louis lawn mowing and get the healthy lawn you want. We follow only the best mowing practices in our lawn care services, to keep your lawn at the proper height and remove the risk of damaging the turf.
Lawn Mowing Service
Included as a regular part of our lawn mowing services, we take the time to pick up trash that may have wandered into your lawn. We also include weeding flower beds as a regular service, because we know that a beautiful lawn comes from the overall look, not just well-maintained grass. At Ground Effects, we want to provide you with the best mowing services in St Louis in a timely manner. By letting us professionally mow and trim your lawn, you receive a personalized lawn mowing service that uses only the highest quality products and practices to create and maintain a lush, green lawn.
---