Brentwood MO Lawn Care Services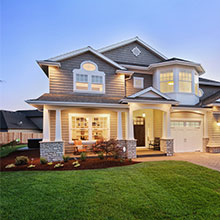 Lawn Care Services Brentwood Missouri. If you are looking for comprehensive lawn care services in Brentwood MO, look no further than the experts at Ground Effects. We provide the Brentwood area with lawn maintenance services to create a professionally manicured lawn. There's more to lawn care than taking the mower out every week, and our team knows the proper planning and process that make great lawns. We understand the benefits of a taller blade height, and the devastation a dull blade can cause to the turf of your lawn. Leave your lawn maintenance to our Brentwood lawn care service specialists and discover how much difference a professional team can make on your lawn.
Commercial Lawn Care Services
Ground Effects also offers our comprehensive lawn care and maintenance to commercial properties in the Brentwood area. Commercial lawn care services in Brentwood include the mowing of turf and trimming of shrubbery and trees. Our lawn care team will work with you to create a lawn maintenance plan that is perfectly customized to your business lawn, green space, or landscaping. We strive to go out of our way to make your experience with Ground Effects pleasant. Choose commercial lawn care services in Brentwood from a lawn care company you can trust by choosing Ground Effects.
Brentwood MO Landscaping
Ground Effects provides homeowners with landscaping services in Brentwood MO. Let the professional landscaping team from Ground Effects create and install a landscape design that will increase the curb appeal on your home, adding to its overall value. When you choose Ground Effects for your landscape design and installation, you are getting high quality, professional work. Our landscape designers use cutting edge 3-D design software to create the landscape you want for your Brentwood home. When choosing a Brentwood landscaping company, make the right choice by choosing Ground Effects.
If you or your business is looking for the best Brentwood lawn care services, contact us today!