St Louis Mulching Services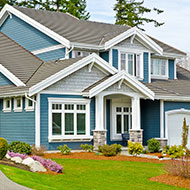 Mulch Services St Louis. Ground Effects offers St Louis mulching services for your landscaping project. Adding mulch to your landscaping can increase the curb appeal of your property. Our mulch services include consultation with one of our expert landscape designers to figure out the best mulch options for you. The benefits of mulch go beyond the visual appeal. Mulch acts as a protective cover to the roots of your flowers, shrubs, and other plants. Mulching from Ground Effects offers your landscaping project many different types and colors of mulch to benefit your flower beds. Mulch added to your flower beds and around trees and shrubs will assist these plants in growing, as the natural materials in the mulch break down over time and become similar to compost. You get the best mulching service when you choose Ground Effects for your St Louis mulch installation.
Mulch Installation
After working with one of our landscape designers to create the perfect mulching plan for your property, Ground Effects' mulch installation team will deliver and install your mulch. During our mulch installation we edge the landscape area to create a visible divide between the mulch bed and turf or walkways. After being installed, mulch can become compacted as it gets older. This limits air and water from reaching the roots of your plants. To combat this, we can cultivate your existing mulch to break up clumps and revive color. If necessary, we will also install a top layer of new mulch over the cultivated mulch to replenish moisture. Let Ground Effects handle all of your mulch installation needs.
---