St Louis Commercial Landscaping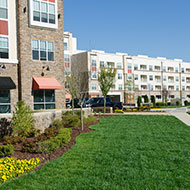 Commercial Landscaping St Louis. At Ground Effects, we know how important landscaping can be to the overall appearance of a home. When it comes to a business, proper landscaping can create a new customer while improper landscaping can turn away potential clients. With our commercial landscaping services in St Louis, you can help your business to leave a positive first impression on potential customers without losing your valuable time to planting, weeding, and fertilizing of flower beds and shrubbery. Let one of Ground Effects' commercial landscape designers work with you to create an inviting landscape for your business or commercial property.
St Louis Commercial Landscaping Services
Ground Effects is the best choice for commercial landscaping services in St Louis. The professional landscaping team from Ground Effects will work quickly to install your beautiful new commercial landscape, including the planting, mulching, and fertilization needs of the plants you choose. After the landscape has been installed, we continue to work hard so that your visually appealing landscape is maintained. If you're looking to add a bit of professional-looking flair to your commercial property, let Ground Effects' commercial landscaping services team work with you to design, install, and maintain the landscape you've always wanted for your business.
---